UPDATE [DEC 2010]: Just wanted to post a quick THANK YOU to everyone who has stumbled onto this post, left a comment, and credited the mood theme over the last year and a half. Stay awesome.
While I was making the 100+ Criminal Minds icons that I've posted/have yet to post, the many crazyawesome facial expressions of the cast (especially Reid omg) inspired me to make myself a mood theme. I held back from making it Reid-specific, so it's the whole team**! However, part of me knows that I will probably end up making themes for each individual character :P It's ridiiiiculously time consuming, but all I've got right now
is
time!
As always, I wanted to share since I don't think I've seen any others around and thought a person or two might be interested.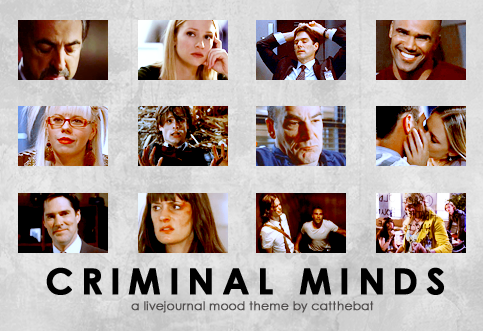 132 moods | 90x60 pixels | seasons 1-4


PLEASE comment if taking & credit if using!
thank you :)
+ To preview the entire
Criminal Minds
mood theme,
CLICK HERE
+ Download the complete mood theme:
.zip & .txt
If there's a problem with mediafire, let me know and I can use a different server.
+ If you cannot open the .txt file, copy and paste the code below into Notepad/Wordpad/MS Word/etc. You will need it for installation:
+ You will need to upload all 132 of the mood pictures to your own server, such as
Phobucket.com
. I strongly recommend Photobucket because you can create a new photo album exclusively for your mood theme, making your life A LOT easier later in the installation process. But obviously the choice in server is completely up to you!
Keep in mind, if your server renames your uploaded mood pictures, you must keep track of which URL corresponds with each mood.
THIS IS ABSOLUTELY NECESSARY
. If your server renames the files, I have provided a list of all moods so you can save the URL next to each one as you upload them.
On to the installation! I've tried to be as clear and detailed as possible. If you have any questions, let me know and I will try my best to help :)
Installing the mood themeFor Plus/Paid/Permanent accounts:
1. Once all 132 of the mood theme pictures have been uploaded, go to admin console.

2. Copy and paste the following into the command box. Click EXECUTE.


3. If done correctly, you should see a message that reads: Success. Your new mood theme ID is ######.(example) Take note of this ID number, you will need it on the next step. DO NOT CLOSE THE WINDOW.

4. Open the .txt file and go to Edit > Replace (Ctrl + H). Find what: THEMEID. Replace with: Your personal ID number. Click Replace All.

5. Now the semi-tricky part. If you uploaded your mood theme pictures to a specific photo album on Photobucket, this will be a piece of cake:


Copy the DIRECT LINK of any mood. Go to the .txt file and Edit > Replace (Ctrl + H).
Find what: http://www.YOUR-URL-HERE.com/
Replace with: paste your DIRECT LINK URL but delete 'moodtitle.png' so that the URL ends with the slash (example). Click Replace All.
The reason this will work is because your mood pictures were not retitled AND you have uploaded them all to the same Photobucket album!

If you did not use Photobucket, you simply must go through and replace 'http://www.YOUR-URL-HERE.com/mood.png' with its corresponding URL from your server.


6. When finished changing the URLs, select and copy your mood list (Ctrl+A and Ctrl+C). Go back to your Admin Console window and paste your list in the command box. Click EXECUTE.

7. When successful, your screen will have a complete list of your mood theme (example).

8. Go to mood theme editor and click USE for "Criminal Minds". All done! :)
For Basic accounts:
Yep, you can have customized mood themes on a Basic account! The trick is to temporarily upgrade your account to Plus. That's how I made mine.



1. Go to account manager.

2. Click UPGRADE TO A PLUS ACCOUNT.

3. Go to admin console and FOLLOW STEPS 2-8 from above!

4. Once you have finished creating your mood theme and set it as your default, it is time to downgrade your account back to BASIC. Go to account settings.

5. On "Account Level", click CHANGE.

6. Select DOWNGRADE TO A BASIC ACCOUNT and click CHANGE YOUR ACCOUNT LEVEL.

7. Click DOWNGRADE.

8. You're finished! Your new custom mood theme should be ready to use and it will appear on the mood themes drop down menu in Customize Journal.
If there are any picture URL mishaps, you can always manually go back and edit the mood theme using the
mood theme editor
. If there are any questions/problems, let me know and I will try my best to help! :)
**You may notice one former member of the BAU missing in these. It was on purpose, sort of. She's in one of these, that counts right? :P
PLEASE comment if taking & credit
muddymessymucky or
catthebat if using!
thank you :)